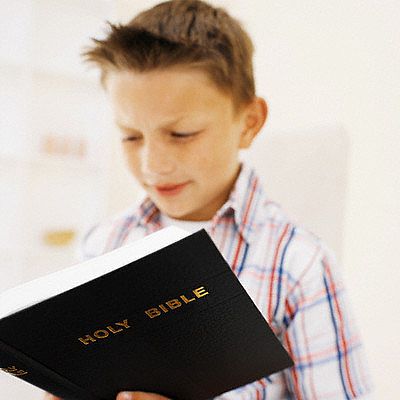 This year I am going to make a concerted effort to have a Scripture reading proclaimed from the Bible by one of the students during every class. I plan to have the Bible enthroned in the middle of the Prayer Center as always and, when it comes time to hear a Scripture passage, one of the young people will get up, bow before the Bible, and proclaim the reading from the Bible (I will have it bookmarked). When they are done, they will place the Bible back in the prayer center, bow once again and return to their place. Hopefully, this will be one more way that the young people will learn reverence for God's Word and make a connection to the liturgy.
To help these young proclaimers, I created a bookmark to place in the Bible that they will read from. This bookmark provides them with the words to introduce a Scripture reading ("A reading from the Book of…" or "A reading from the Holy Gospel according to…") as well as the words to conclude a reading with ("The Word of the Lord" or "The Gospel of the Lord")
As I always try to do, I'm providing a PDF of that bookmark should you wish to use it in your classes. Here 'tis!
Here's the same resource in Word 97-03