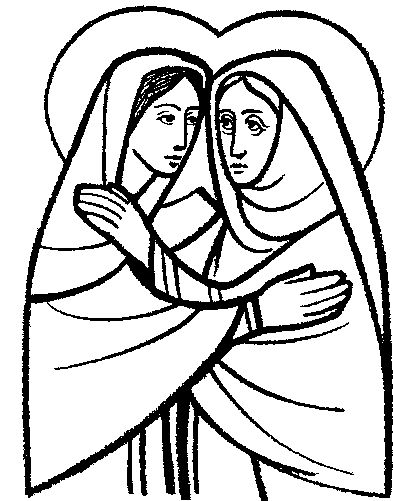 Today we celebrate the Feast of the Visitation of Mary to her cousin Elizabeth. In this great story, we find a model for evangelization: fresh from her encounter with God, Mary swings into action (she went "in haste"), joyfully carrying (literally) the Word of God to others and being of service to someone in need.
Mary's visit to Elizabeth was not to brag about her new-found status as the Mother of the Savior. Mary did not go there to make an announcement and then turn around and go home. She no doubt went to be of service to her older cousin who was entering her third trimester and in need of support: Mary was performing a Corporal Work of Mercy, an essential element in evangelization.
When Elizabeth draws attention to Mary's blessed condition, Mary deflects the attention to God.
In this story, we see a model for the New Evangelization:
Open yourself to God's call

Internalize God's Word
Swing into action, joyfully bringing God's mercy to those in need (beginning with those in your own family and community)
Give the glory to God
Have a great weekend!