My goodness, 4th graders can be chatty! 🙂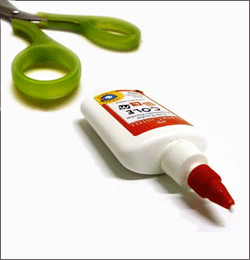 Last evening, as they worked on their Works of Mercy project, cutting and pasting pictures of the Corporal and Spiritual Works of Mercy in the correct frames, my young apprentices were extremely chatty! Several of them were singing (or rapping) outloud to themselves as they worked while most of them chatted unceasingly with one another as they diligently performed surgery with their scissors and glue. It was a playful cacophany. They were very energized to be doing this activity and it seemed to help them get a handle on the various Works of Mercy.
I was honored to have a couple of visitors drop in as the kids were working on this. Arlene, our DRE, popped in accompanied by a friend and colleague, Cathy Walz, the Vicariate V Catechetical Ministry Coordinator for the Office for Catechesis and Youth Ministry in the Archdiocese of Chicago. Cathy asked the kids what they were working on and they responded intelligently (thank goodness) that they were learning about the Corporal and Spiritual Works of Mercy.  I asked the kids to tell Cathy about the 2 brief video clips we watched – one that depicted someone showing NO MERCY and another one depicting someone showing MERCY to others. Again, I was pleased that volunteers responded intelligently, describing the Ebeneezer Scrooge clip as showing NO MERCY and the Mother Theresa clip as an example of showing mercy. Thanks for visiting, Cathy!
In all, the class went pretty well although not having my aid with me last night threw me off balance a little so at times I felt a bit disjointed. I DO think, however, that they now know what the word MERCY means and can recognize the Corporal and Spiritual Works of Mercy. I think! 🙂